Opening Ceremony of GEO
Opening Ceremony of GE Office on eNews 通識教育處正式開幕 推動全人教育發展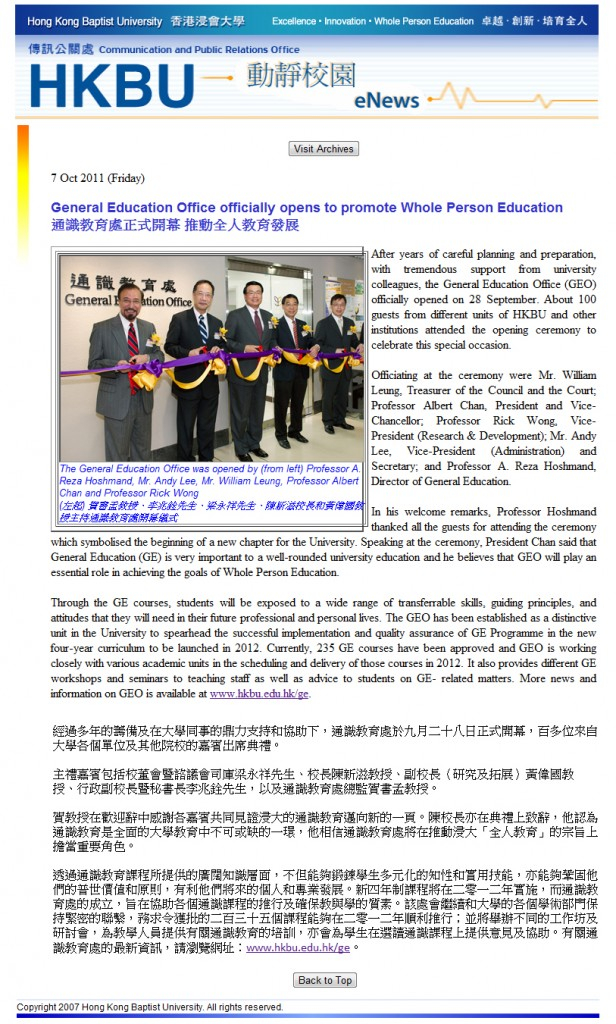 With the constant support and hard work of both internal and external parties, we are delighted to announce that the General Education Office has been set up. Officiated by Mr. William Leung (Council Treasurer), Prof Albert Chan (President & Vice-Chancellor), Mr. Andy Lee (Vice President for Administration), and Prof. Rick Wong (Vice President for Research and Development), a wonderful opening ceremony was held on the 28th September, 2011.
Let's read how it was reported on eNews or you may want to view all the event photos!
有賴多年來大學同事的協助和外界的支持,通識教育處於九月二十八日正式開幕,百多位來自大學各個單位及其他院校的嘉賓出席典禮。
在此謹多謝各主禮嘉賓,包括校董會暨諮議會司庫梁永祥先生、校長陳新滋教授、副校長(研究及拓展)黃偉國教授、行政副校長暨秘書長李兆銓先生,以及通識教育處總監賀書孟教授。
Message to all honored guests and friends
I am delighted to welcome you all to the opening ceremony of the General Education Office. It is another memorable day in the history of our university. With dedication and commitment from many who are here, we embark on another journey in the life of this institution.
This office is going to be a symbol of the ideals of Hong Kong Baptist University which is embedded in the ethos of Whole Person Education. Our General Education or liberal education will play in important role in achieving the goals of the Whole Person Education.
As Charlotte Mason, a British educator aptly put it "A liberal education is, like justice, liberty, fresh air, the natural birthright of every child". With general or liberal education we give to our students the birthright to education, and we hope to engage them in realizing their dreams of an education that matters to them, their families, their society, and the world community.
I want to thank each and every one of you who took the time to be with us on this occasion. We seek your continuing support of our General Education Programme as we move forward.
Let us celebrate the beginning of new chapter for our university.
A. Reza Hoshmand,
Director of General Education