GE Off Campus: Warzone 90 戰區90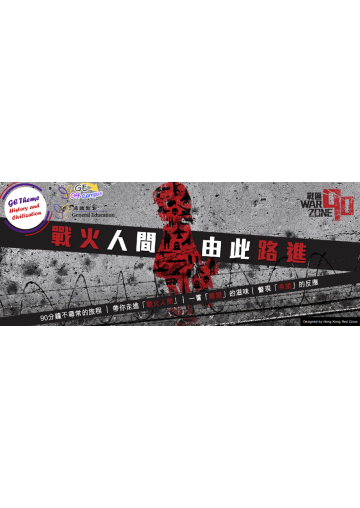 Do you understand the agonies of wars?
We, the new generation in Hong Kong in particular, seldom experience wars. Yet, in some parts of our world, countless people including the young and children who should be dynamic went through the agonies of wars. Could you understand their feelings? In an unusual 90-minute journey, "Warzone 90" will bring you on a ruthless battlefield, and let you experience the taste of despair and the glimpse of hope.

Event & Registration Details
Sponsored Session
16 Feb 2019 (Sat)
Time
3:00 – 5:30pm (2.5 hours) (Call Time: 2:45pm)
Venue
Humanitarian Education Centre, 7/F, Hong Kong Red Cross Headquarters, 19 Hoi Ting Road, West Kowloon, Hong Kong (Gather at the entrance of the Humanitarian Education Centre; Map: http://hec.redcross.org.hk/en/Contents-contactUs)
Details

In the activity, the participants will

participate in simulation regarding humanitarian challenges to experience situations faced by children in wars
perceive humanitarian consequences brought by wars
ponder ways to practice humanitarian actions in daily life

This activity will be conducted mainly in Cantonese and is a CCL-recognized event .

Fee

HKD$100 (Full sponsorship granted to student who attend the activity and meet the requirement)

Eligibility

Full-time UGC-funded undergraduates of HKBU

Registration Method

From 10 Oct 2018 (Wed) to 13 Feb 2019 (Wed), bring along your student ID card and pay HKD$100 in cash as the fee at the GE Office (AAB805, 10am to 12:45pm, 2:30pm to 5:45pm). Full sponsorship of HKD$100 will be granted to students who attend the activity punctually and submit reflective journals by 1 Mar 2019 (Fri). Limited quotas. First come, first served!

Registration Deadline
5:45pm, 13 Feb 2019 (Wed)
Important Notes
Please refer to the GE Off Campus webpage.

*Considering the unique nature of the experiential tour, we DO NOT recommend the following people to join:
With heart disease or related diseases; with Claustrophobia; mental illness; moderate or severe mental retardation; severe autism; pregnant; sick / with fever / taken drugs or alcoholic drinks before the activity
* Participants are required to arrive at the meeting point on time by themselves.
* All participants have to follow tour guides' instructions. No participant is allowed to leave the tour midway.
* If there is bad weather, participants will be notified of cancellation or postponement via phone 2 hours before the event.
Reflective Journal Details
Content
Upload 1 photo taken at the event and write a caption of at least 50 words to describe your thoughts/feelings from the event.
Submission Deadline
10:00am, 1 Mar 2019 (Fri)
Submission Method
Step 1: On your Facebook "Status", upload 1 photo taken at the event and write a caption of at least 50 words to describe your thoughts/feelings from the activity. Set the privacy for Public view. At the end of the status, add the following sentence:

GE Off Campus event "Warzone 90" #geoffcampus #gehkbu

Step 2: Visit "General Education at HKBU" Facebook Page and click "Message" (top right corner). State your contact information and the posting time of your Reflective Journal as follows:

GE Off Campus event "Warzone 90"
I have posted the Reflective Journal on my own Facebook Status at (8:30pm, 16 Feb 2019).
Name: (Chan Tai Man)
Student no.: (18123456)

Confirmation email and/or Facebook message will be sent within 2 weeks.
Enquiry
Aggie 3411 2864 / Yoyo 3411 2049 / ge@hkbu.edu.hk