GE Capstone Series: MATCHmeetings with NGOs – Session 2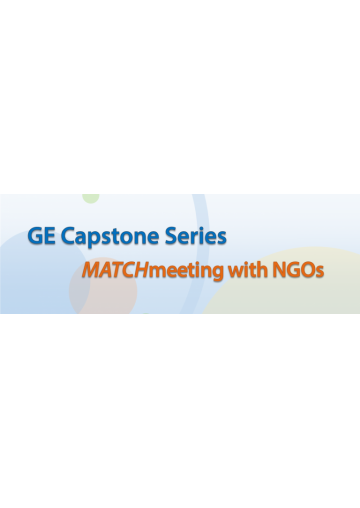 GE Capstone Series: MATCHmeetings with NGOs
About MATCHmeetings
The General Education Office (GEO) is working on the details of the Level 3 GE Capstone and will soon seek views from the faculties. In the meantime, as service-learning, service-leadership and experiential learning would be some of the major teaching and learning activities of the GE Capstone, GEO and Centre for Innovative Service-Learning (CISL) are co-organizing a series of meeting sessions with NGOs to facilitate colleagues' design of potential GE Capstone courses. In these MATCHmeetings, NGOs will introduce their work and projects; colleagues are invited to join, establish connections and seek collaboration opportunities with them.
Topics
Updates on GE Capstone
Introduction to NGOs
Support offered by CISL
Mix and mingle: project exploration
Session and NGO Details
Session 1
Session #1: Wu Zhi Qiao (Bridge to China) Charitable Foundation
Date: 6 March 2019 (Wednesday)
Time: 3:30 – 5:00 p.m.
Venue: AAB302, 3/F, Academic and Administration Building
Wu Zhi Qiao (Bridge to China) Charitable Foundation is a registered charitable organization (No.: 91/8739) in Hong Kong inaugurated in 2007. It works with university students, professionals and volunteers to serve underprivileged communities in Mainland China by initiating and developing projects, including footbridge construction, village and other community improvement projects. For details, please visit http://bridgetochina.org.hk/.
About the Speaker
Mr. Kenny Leung, CEO of Wu Zhi Qiao (Bridge to China) Charitable Foundation will introduce the following opportunities that are open to students of any disciplines:
Service-learning trip of 6 to 10 days in Macha Village, Gansu Province in August 2019
Footbridge design and construction projects
Research projects to promote sustainability and eco-building
Community enrichment programmes, e.g. public health, waste management
Session 2
Session #2: Center for Community Transformation Inc Philippines and InspiringHK Sports Foundation
Date: 18 March 2019 (Monday)
Time: 3:30 – 5:00 p.m.
Venue: iCafe, 3/F, The Wing Lung Bank Building for Business Studies
Center for Community Transformation Inc Philippines (CCT) (Homepage) is a religious-based organization from the Philippines. It organizes financial literacy courses for overseas Filipino workers (OFWs) with both technical and Biblical contents. CCDT believes that spiritual transformation can holistically change the mindset of OFWs. It currently works with Filipino pastor-leaders of churches in Hong Kong to implement the courses.
Speaker: Ms. Irma Cociso

Opportunities:

Assisting the teaching of Financial Stewardship training course for Filipino migrant workers and other underprivileged in Hong Kong
Internship/immersion programme with CCT
InspiringHK Sports Foundation (Homepage) is founded in 2012 to develop better youths through sports. Its mission is to promote and facilitate equal access to sports training for youths, regardless of their economic background, gender, ethnicity, religion and disability, so as to promote gender equality, social inclusion and a healthy lifestyle. The missions are carried out through long-term sports training, learning experience activities and advocacy.
Speaker: Ms. Tini Fong, Project Manager
Opportunities:

Producing documentary and publicity materials of a youth empowerment sports programme
Planning and managing public events (e.g. kick-off ceremony, annual dinner, sharing sessions)
Supporting regular sports programmes
Researching the impact of sports programmes on underprivileged youth
Session 3
Session #3: WeCareBill and Treats
Date: 22 March 2019 (Friday)
Time: 3:30 – 5:00 p.m.
Venue: iCafe, 3/F, The Wing Lung Bank Building for Business Studies
WeCareBill (Homepage) is an open database for patients to select medical services based on budget. It invites patients to share anonymous information about the medical bills from private hospitals. The information is used to help other patients to find doctors and medical services according to their budget. This simple step would reroute 3-5% public patients to go private, leaving more resources for needy and urgent patients.
Speaker: Ms. Jan Chan, Community Coordination Manager
Opportunities:

Constructing database for common surgeries and drug costs
Designing AI Chatbot for patients to check bills
Leading the data collection campaign
Doing policy analysis and advocacy for Open Data Initiative and public-private partnerships
Producing publicity materials
Treats (Homepage) is a charitable organization in Hong Kong that aims to give every child the chance to live and participate in an accepting and integrated society. Treats integrates children of all abilities and backgrounds by promoting understanding, acceptance, equal participation and embracing individual differences through the use of experiential learning, play and recreational activities to break down educational and social barriers.
Speaker: Ms. Kris Tong, Executive Director
Opportunities:

Assisting the implementation of an outdoor experiential programme for children and a community integration programme
Conducting the "Art for ALL" Project
Producing promotion materials and documentation for community events
Session 4
Session #4: Watoto Asia and HOPE International
Date: 25 March 2019 (Monday)
Time: 3:30 – 5:00 p.m.
Venue: iCafe, 3/F, The Wing Lung Bank Building for Business Studies
Watoto Asia (Homepage) is a holistic care programme that was initiated as a response to the overwhelming number of orphaned children and vulnerable women in Uganda. It is positioned to rescue an individual, raise each one as a leader in their chosen sphere of life so that they in turn will rebuild their nation. The Watoto model involves physical care, medical intervention including HIV/AIDS treatment, education, trauma counselling and spiritual discipleship.
Speaker: Mr. Wallace Leung, Development and Partnerships Manager
Opportunities:

12 to 15 days voluntary trip in Uganda (23 July to 3 or 6 August) to assist in one of these themes:

Physical education and sports training
Skills, interest and leadership training (e.g. music, science, language, etc.)
Agricultural and community enrichment projects

Assist local farmers in Uganda in developing business plans and marketing their products to Hong Kong
Other support such as documentary/short movie making, translation
HOPE International (Homepage) is an organization restoring dignity and investing in the dreams of more than 900,000 men and women in 16 developing countries around the world. It empowers individuals through the provision of discipleship, biblically based business training, a safe place to save, and small loans.
Speaker: Mr. Joseph Tang, International Representative
Opportunities:

Event management for annual fundraising dinner
Financial literacy and saving groups training for overseas Filipino workers
Assisting the ongoing research project on Asian Philanthropy
For enquiries, please contact Miss Hazel Chow at 3411 2014 or Miss Jessie Fung at 3411 2864.