Acing GE Level 2 Course Renewal - Tips for Inter-departmental Collaboration & Addressing Prevailing Needs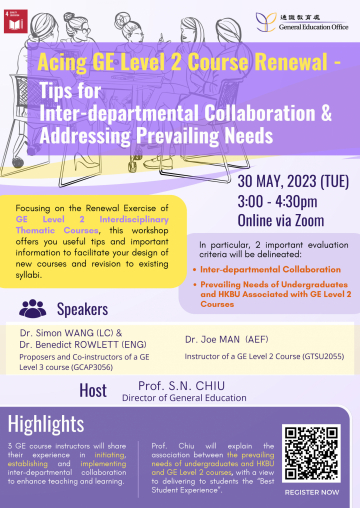 The Renewal Exercise of GE Level 2 Interdisciplinary Thematic Courses is currently open for application! Are you getting your submission ready?
Here comes an opportunity to get some tips for acing it!
Focusing on the GE Renewal Exercise, this workshop offers you useful tips and important information to facilitate your design of new courses and revision to existing syllabi. In particular, 2 important evaluation criteria, namely, i) Inter-departmental Collaboration, and ii) Prevailing Needs of Undergraduates and HKBU Associated with GE Level 2 Courses, will be delineated.
3 GE instructors will share their experience in initiating, establishing and implementing inter-departmental collaboration to enhance teaching and learning. Also, Prof. S. N. Chiu, the Director of GE, will explain the association between the prevailing needs of undergraduates and HKBU and GE Level 2 courses, with a view to delivering to students the "Best Student Experience".
Details:
Date: 30 May 2023 (Tuesday)
Time: 3:00 – 4:30 PM
Mode: Online via Zoom (The link will be sent to you after successful registration)
Recap of the Mechanism & Some Points to Note
---
Key SDGs related to this activity: