2022 Conference on General Education, Pedagogy, and Assessment
International Events
AAC & U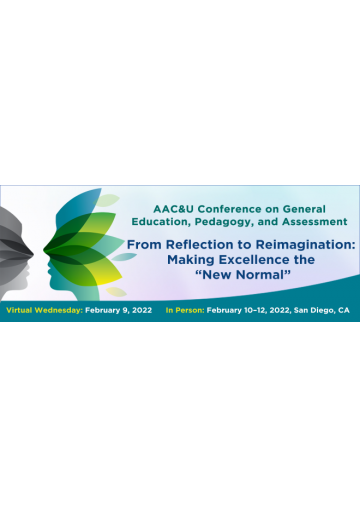 From Reflection to Reimagination: Making Excellence the "New Normal"
February 10, 2022

to

February 12, 2022
Sheraton San Diego Hotel & Marina
The AAC&U Conference on General Education, Pedagogy, and Assessment invites colleagues from all areas of the higher education landscape to join in sharing efforts to create intentional and integrated general education programs, to assess our current practices, and to generate evidence of high-quality learning for all students. The conference invites educators to reflect on how to navigate turbulent contexts and maintain steady progress toward quality and equity.
Overview of the 2022 Conference
As educators, citizens, and human beings, we have been challenged as never before—challenged by the trauma of a global pandemic, by the violence inflicted by people in positions of power and trust, and by the assault on the very foundation of our democracy. Those challenges have manifested in large and small ways in our lives, the lives of our loved ones, and the lives of our students. It will likely take years to fully assess and understand the effects. The work performed by faculty and other higher education professionals in classrooms, through assessment offices and centers for teaching and learning, and across the cocurriculum is the strongest argument against the tired tropes about higher education—that colleges and universities cannot pivot to meet the critical immediate and emerging needs of our students; that faculty cannot or will not innovate in the classroom; that curricular change is impossible; that a liberal education is, at best, a "luxury good." That is not our shared narrative. It never was. Indeed, it is a false narrative that, moving forward, we must actively contest.
The 2022 Conference on General Education, Pedagogy, and Assessment provides an opportunity to build on the narrative of resilience and innovation created across our campuses over the past several semesters of unprecedented challenge. Recognizing the post-pandemic period as an inflection point for higher education and that there can be no return to a pre-COVID "normal," the conference will focus on reimagining curricular structures, pedagogical approaches, and assessment methods in order truly to make quality and equity the hallmarks of excellence in undergraduate education in service to democracy. In other words, the conference will focus on creating a "new normal" for our students and our institutions.
A Hybrid Meeting
AAC&U is looking forward to gathering in person for the 2022 Conference on General Education, Pedagogy, and Assessment. While we hope to see many of you in San Diego, we will also offer a virtual component for those unable to join us in person. There is a full day of virtual sessions that will take place Wednesday, February 9 and all in-person plenary sessions will be livestreamed. Virtual preconference workshops will take place Wednesday, February 2 – Friday, February 4. All conference participants will be able to view recordings of the virtual concurrent sessions after the conference.