GE Teaching Award
Award Recipients
Prof Gerard Prendergast
AY2017/18 Individual
Professor, Department of Marketing
Associate Dean (Internationalisation), School of Business
Director, International Institute for Business Development
Associate Director, MSocSc in Media Management
HKBU
Office: WLB 502
Office number: (852) 3411-5560
Email:gerard@hkbu.edu.hk
Qualification
Ph.D in Marketing, Massey University, New Zealand
B.Com (First Class Honours) in Marketing, Otago University, New Zealand
Research Interests
Marketing Communication
Marketing Ethics
Gerard Prendergast is Professor of Marketing, Associate Dean, and Director of the International Institute for Business Development, Hong Kong Baptist University (HKBU). He previously held faculty positions in a variety of countries, having taught Bachelor, Master and Doctoral programs in New Zealand, Singapore, the UK, Sweden, Hong Kong, Mainland China, Africa and the Middle East. His research focuses on marketing communications and marketing ethics, having published more than 100 journal articles and conference papers. He is Associate Editor of the International Journal of Advertising, and is on the editorial boards of several leading journals. In the past he has received awards from the Journal of Advertising, International Journal of Advertising, Marketing Intelligence and Planning, the American Academy of Advertising and Emerald Literati. Apart from research, Professor Prendergast has received the HKBU School of Business Award for Outstanding Performance in Teaching in 2010 and again in 2017.
Central to Professor Prendergast's professional philosophy is caring: caring for himself, his students, for employers of his students, and for the broader society. He believes that impactful business schools that care about their stakeholders must strive to maintain relevance by having industry-engaged research, fostering diversity in the classroom, and utilising problem-based learning to produce life-ready (not just job-ready) graduates.
Prior to becoming an academic Professor Prendergast was a marketing executive with the ANZ (New Zealand) Banking Group, and since then he has acted as a marketing consultant or trainer for a variety of organisations such as, The Economist (UK), Mercedes-Benz (UK), Ogilvy (HK), Unilever (UK, Middle East, and Africa), General Accident Insurance (UK), Tate & Lyle (UK), ICAC (Hong Kong), Colonial Mutual (UK), British Aerospace (UK), 3M (HK), and WWF (Hong Kong).
Recognition from the Selection Panel
Prof. Prendergast has been engaged in the GE Programme by teaching the interdisciplinary course GDBU1956/GDSS1956 Service Leadership Practicum since AY2016-17 under the Service Leadership Education Initiative of the GE Office. He is complimented by the Panel for his understanding of the philosophy and essence of GE, his student-centred teaching approach, as well as his endeavour in delivering the concept of "caring" to the students. In observing his class, a member of the Panel noticed that Prof. Prendergast used various approaches to introduce to students how service leadership could enhance their capabilities as a caring member of a society. To the Panel, his teaching strategy is effective and impactful.
In his presentation to the Panel, Prof. Prendergast demonstrated that he was an adventurous and reflective teacher as he was devoted to making continuous improvement in the delivery of his course by adopting changes in the course design and assessment. The Panel also appreciated his vision in teaching as he provided a plan of the development of a U-wide international practicum to widen students' horizons through overseas service learning opportunities.
The Panel believes that presenting the GE Teaching Award to Prof. Prendergast is not only a way to recognize his outstanding performance and devotion in the teaching of GE courses, but also a good opportunity for him to share his valuable experiences with other GE teaching colleagues on how to adopt appropriate pedagogies and approaches in the delivery of GE courses to help students better achieve the learning outcomes of the GE Programme.
Recognition from Students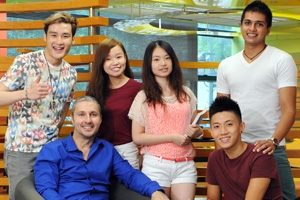 Students appreciated that Gerard put lots of efforts into contacting local NGOs, and matching suitable students for the placement. They treasured the practicum experiences that Gerard put forth to them, which helped broaden their horizons. Students praised that Gerard was friendly and approachable. He always welcomed students to come and ask him questions, and inspired them to self-reflect.
Gerard set an example to his students that when one is capable of helping others, s/he should offer them a helping hand. He encouraged students not to belittle their roles in the organization, and reminded them to work meticulously and seriously on the tasks assigned to them. His passion in designing the course, his devotion to helping others and his genuine care for his students was admired.
Here are some of the comments from Gerard's students:
I was assigned to work in an organization which required me to help develop an official website and design leaflets. At first, I was worried that the tasks were too difficult for me and considered changing to another placement. Gerard encouraged me to stay and gave me confidence that I would be capable of managing the tasks well. He convinced me it would be a life-changing experience and the placement would help me a lot in my personal growth. In the end, I learnt a lot of IT skills and was trained to become a more mature person.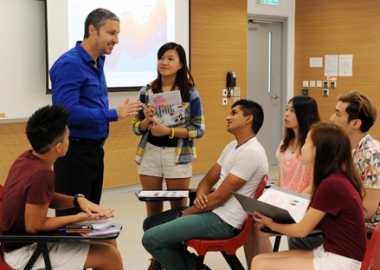 Gerard's briefing sessions were different from other lectures. Apart from introducing the course and content, laying out the aims and requirements, he engaged students with activities, showed them videos about serving others, and shared his personal experiences, which we found interactive and fun.