GE Teaching Award
Award Recipients
Dr Kimmy Cheng
AY2015/16 Individual
Lecturer, Department of Communication Studies, School of Communication and Film, Hong Kong Baptist University
Programme Director of "Public Speaking"
Office: CVA 927
Office number: (852) 3411-8139
Email: kimmycheng@hkbu.edu.hk
Qualification
Ph.D. in Communication Studies (HKBU, HK)
M.A. in Integrated Communication Management (HKBU, HK)
B.A. in Organizational Communication (Magna cum Laude), Minor in Management and Psychology (Western Michigan University, US)
Research Interests
Health communication
Celebrity culture
Public Speaking
Dr. Kimmy Cheng, Programme Director of Public Speaking program, is a lecturer in Communication Studies (COMS) Department of Hong Kong Baptist University (HKBU). Before joining COMS Department, she taught at the College of International Education (CIE), HKBU, and also worked as a part-time lecturer at the School of Professional and Continuing Education (SPACE), University of Hong Kong (HKU). Kimmy has published articles in various referred journals discussing health communication, celebrity culture in Asia, etc. Co-authoring with two other colleagues, a book named Celebrity Culture and the Entertainment Industry in Asia: Use of celebrity and its influence on society, culture and communication will be published in July 2017. Kimmy received the General Education Teaching Award (with Honorable Mention) from HKBU in the academic year of 2014-15.
Recognition from the Selection Panel
As a young teacher/scholar Dr. Cheng shows incredible potential for providing the type of education that our students need. Her care in preparing her lectures, the ability to engage her class in the discussion effectively are all good signs of an exceptional teacher. She meticulously puts forward her ideas and engages her students in the learning process. In observing her class, a member of the panel noticed how attentive she was to the needs of her students, which gave us comfort to know that our students are fortunate to have Dr. Cheng as a facilitator in the classroom. In her presentation to the panel, Dr. Cheng also showed her humanity. Reaching out to her students in time of need and providing guidance to them is also an important characteristic of an excellent teacher/educator.
Her style of teaching is to encourage students to become self-reliant and creative in their approach to make a public speech. Her pedagogy is about to encourage a class to be a dynamic community of self-motivated, active learners. The panel was impressed that Dr. Cheng is open to experimenting with new techniques in teaching her Public Speaking class.
Giving live performance of a good presenter
Students admired Kimmy being so confident, charming and presentable; they regarded Kimmy as giving live performance of a good presenter. Kimmy always encouraged students to be more confident; many female students viewed Kimmy as a role model, whereas others said Kimmy was an admirably successful woman, who willingly shared her experiences to others. Kimmy gave confidence to students; Kimmy would comfort those nervous students, guide them with solutions, and convince them in trusting themselves.
Kimmy quoted diverse examples from different disciplines to elucidate the theories and strengthen students' understanding. In speech presentation, every student had one's own strength and weakness; Kimmy gave them feedbacks individually, which enabled every student to have one's own personalized ways for improvement. Another thing Kimmy did was to invite 2-3 students for critique of student's speech; being with diverse background and disciplines, students responded differently to one another's speech, exposing themselves to various perspectives and opinions.
Here are some of the comments from Kimmy's students:
I sought Kimmy's advices on my personal issues, knowing that her previous work experience in public relations. I felt Kimmy truly cared about me and took good care of me. I would regarded her as my counsellor; I felt Kimmy was in full support of me, and felt relieved after gaining advices from her, which I am truly grateful to her. I know another students had similar occasions in consulting Kimmy's opinions on further study in the US or career prospect in Communication, and Kimmy was eager to share her experiences.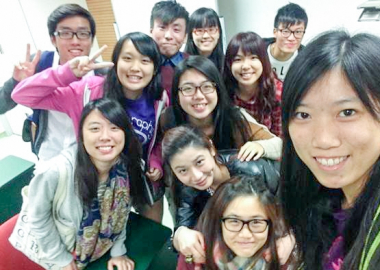 Students felt Kimmy was very nice; I felt I could be on an equal footing with her, which made me freely and actively respond to her questions during class and enjoy such a joyful learning atmosphere.