2018/19 GE Outstanding Students Award Presentation Ceremony cum Sharing by Mr. Po Chung
Excellence in Leadership. Simply Delivered:
2018/19 GE Outstanding Students Award Presentation Ceremony cum Sharing by Mr. Po Chung
The 5 recipients of the GE Outstanding Students Award will share their whole-person learning experience at HKBU. Mr. Po Chung will share how his university life and early career stage helped achieve his personal goals and bring positive impact to the society.
This is a CCL-recognized event conducted in English.
All staff and students are welcome!

For enquiries, please contact Ms. Aggie Law at ge@hkbu.edu.hk or 3411 2864.
---
Biography of our Honorable Speaker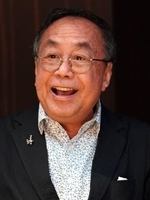 Po Chung, SBS, OBE, JP
Co-founder of DHL International; Chairman of Hong Kong Institute of Service Leadership & Management (HKI-SLAM)
Mr. Chung co-founded DHL International Limited in 1972 and had played a shaping leadership role in the company's dramatic development, corporate culture and expansion and built the company into the most global of all global network service companies.
In his capacity as the Chairman of HKI-SLAM, Mr. Chung is a champion of the effort to develop service-network leadership related courses and executive training programmes for Hong Kong's major universities and organizations.
---
Date: 22 January 2019 (Tuesday)
Time: 2:30pm – 4:15pm
Venue: G9, Student Residence Halls, 5 Baptist University Road, Kowloon Tong
GE Outstanding Students Award
Sponsored by HKBU Century Club, the GE Outstanding Students Award is designed to award the students who have excellent academic results in GE courses, active participation in GE activities and enthusiastic community service.
Awardees of GE Outstanding Students Award AY2018/19
CHAN Hong Kei, Rachel, Chinese Medicine and Biomedical Science, Year 3
HAN Jiatong, Sophie, Finance, Year 3
LEUNG Cheuk Lam, Lareen, Religion, Philosophy and Ethics, Year 3
SUN Yutong, Government and International Studies, Year 2
WONG Tsz Tung, Queenie, Chemistry, Year 3
Video (View on HKBU campus only)